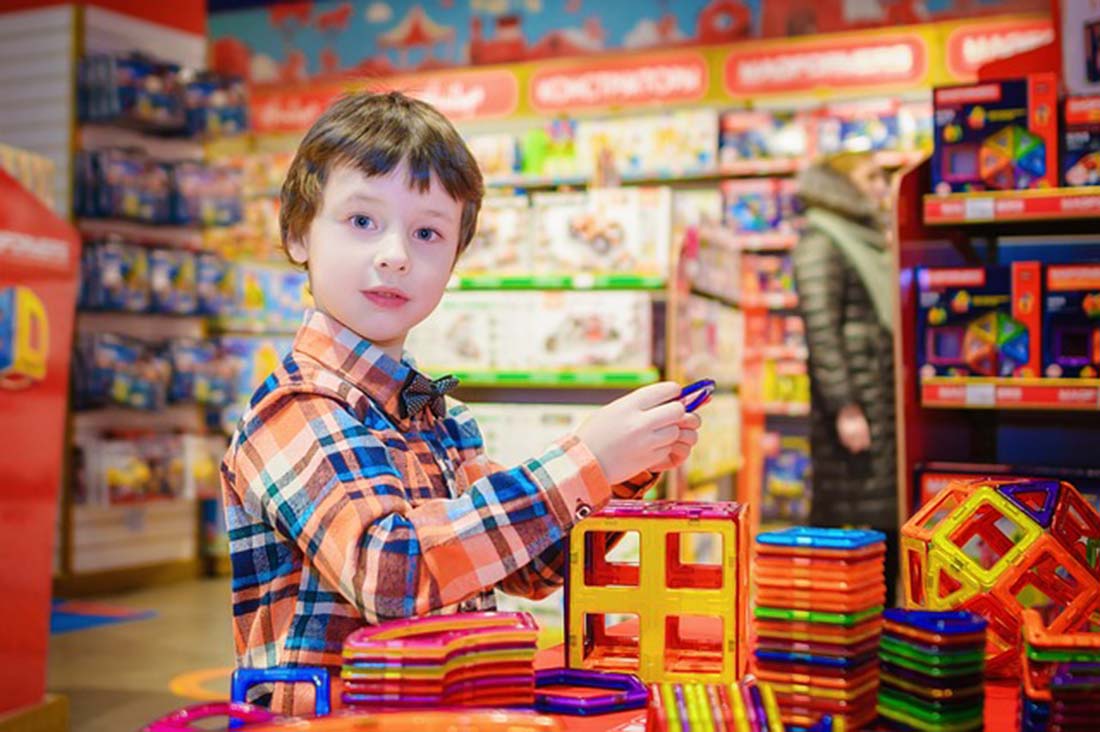 ABILITIES AND INTERESTS
Toys for older toddlers 2 years old can be different but primarily is safety. It is a period when children put everything in their mouths and they can get hurt. Of the plush toys, cars, dolls, the most interesting thing for the child is going to nature. Weather does not always allow us to play outdoors, so we must do our best to create some kind of playground in the home. Toys are supposed to be auxiliary means, but nowadays they have become the primary concern of every child and parents.
 Older Toddlers (2 Year Olds)
PHYSICAL
skilled at most simple large muscle skills.
lots of physical testing, jumping from heights, climbing, hanging by arms, rolling, galloping, somersaults, rough-and-tumble play.
throws and retrieves all kinds of objects.
pushes self on wheeled objects with good steering.
by 21/2 to 3 years, good hand and finger coordination.
lots of active play with small objects explores different qualities of play materials.
MENTAL
interested in attributes of objectstexture, shape, size, color.
can match a group of similar objects.
plays with pattern, sequence, order of size.
first counting skills.
first creative activities (drawing, constrbc- tion, clay) process still more important than final product.
beginning to solve problems in head.
imaginative fantasy play increasescontinued interest in domestic imitation.
fantasy play alone or with adultchild also makes toys carry out actions on other toys.
SOCIAL
main interest still in parents, but begins to play cooperatively with other children (espe- cially 30 to 36 months).
uses language to express wishes to others.
engages in game-like interactions with othersalso some pretend play with others.
enjoys hearing simple stories read from pic- ture books, especially stories with repetition.
strong desire for independence-shows pride in accomplishment.
ACTIVE PLAY
Push and Pull Toys
pull toys with strings.
doll carriages. wagons.
small, light wheelbarrow. interest in push toys that look like adult equipmentlawnmower, vacuum, shop- ping cart.
interest in realistic-looking ride-ons tractors, motorcycles.
ride-ons with storage trays or bins.
ride-ons propelled by bouncing up and down.
when children begin to pedal (around 2 1/2-3), small tricycle.
Outdoor and Gym Equipment
all gym equipment needs adult super- vision.
tunnels.
climbing structures and slides.
stationary rather than moving outdoor equipment.
swings with curved, soft seats and restraining straps.
Sports Equipment
sleds sized to child (shorter length than child's height).
spinning seat.
pool toys (tubes, mats) with adult supervision.
balls of all sizes, but especially large balls. (All balls given to this age group should be at least 1-3/4 inches (44 mm) in diameter; however, if any object appears to fit easily in the child's mouth, keep it away from the child.)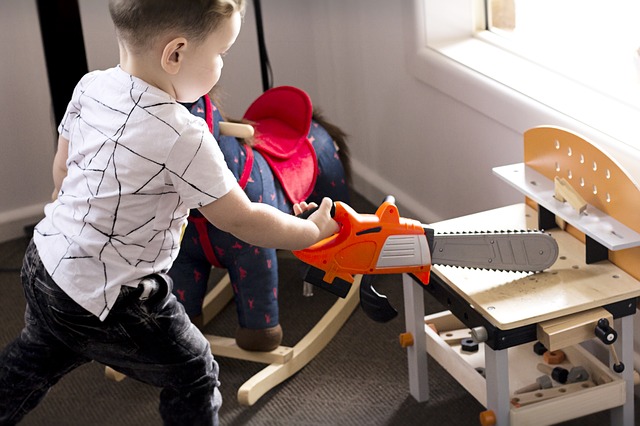 MANIPULATIVE PLAY
Construction Toys
solid, wooden unit blocks.
large, hollow building blocks (card- board, wood, plastic).
large, plastic bricks (2-4 inches or 50-100 mm) to be pressed together.
plastic interlocking rings; large plastic nuts and bolts.
Puzzles
fit-in puzzle:
2 to 21/2 years, 4-5 pieces.
2 1/2 to 3 years, 6-12 pieces.
puzzles with knobs easier (knobs should be firmly attached).
Pattern-Making Toys
peg boards with large pegs.
color cubes.
magnetic boards with shapes, animals, people.
color forms (from around 21/2).
Manipulative Toys
fit-together toys of 5-10 pieces.
nesting toys with multiple pieces, in- cluding barrel toys that require screw- ing motion.
number/counting boards with large pegs
shape sorters with common shapes.
pounding/hammering toys.
smelling jars
feel bag or box.
color/picture dominoes.
simple lotto matching games based on color, pictures.
Dressing, Lacing, Stringing Toys
large colored beads. (All beads given to this age group should be at least 1-3/4 inches (44 mm) in diameter; however, if any object appears to fit easily in the child's mouth, keep it away from the child.)
lacing card or wooden shoe for lacing.
dressing books and dolls.
frames, cubes for lacing, buttoning, snapping, hooking.
Sand and Water Play Toys (with Adult Supervision)
bathtub activity centers. nesting tub toys.
tub toys with removable figures, acces- sories.
linking tub toys.
small boats (no metal parts).
small and large sandbox tools (with blunt edges).
water/sand mills.
sprinklers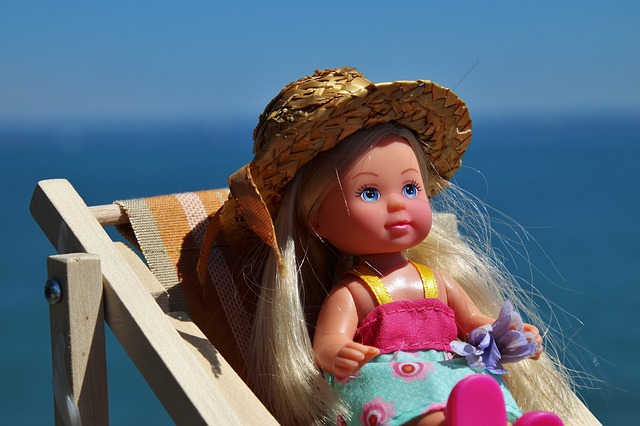 MAKE-BELIEVE PLAY
Dolls
soft -bodied and rubber baby dolls
more realistic dolls with hair and mov- ing eyes.
dolls to fit in child's arms; also small, realistic dolls
talking dolls operated by pulling string.
large peg dolls
doll accessories simple and sturdy.
caretaking accessoriesbottle, blanket
simple removable garments (hook and loop, large snap fasteners).
Stuffed Toys
soft, pliable animals.
mother and baby combinations.
preference for realistic animals, replicas of familiar characters.
toys with music box inside.
Puppets
small hand puppets (hand-and-arm pup- pets too large).
lightweight, sized to fit child's hand.
puppets doubling as stuffed toys.
puppets representing familiar characters.
Role-Play Materials
dress-ups and costumes
equipment should be realistic-looking
child-sized equipment – stove, cooking board, refrigerator.
doll equipment.
all housekeeping equipment – cleaning
sets, pots and pans, bath and laundry
toys that can be pushed vacuum, lawnmower, shopping cart.
full-length mirror.
Play Scenes
familiar, realistic-looking scenes farm, garage, airport.
scenes with multiple pieces but not highly detailed.
preference for moving parts, parts that make noise.
interior of scenes easily accessible.
vehicle sets with figures.
Transportation Toys
small, realistic cars (not metal).
vehicles with moving parts.
large trucks (metal too heavy) moving parts, parts operated by large lever (with knob on end).
cars, trucks with removable figures, accessories.
small trains with simple coupling mechanism no tracks.
Projectile Toys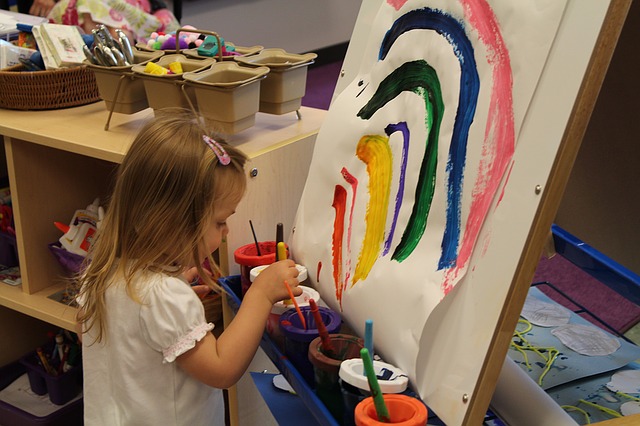 CREATIVE PLAY (arts, crafts, music)
Musical Instruments
all rhythm instruments bells, rattles.
cymbals, drums, triangle, rhythm stick, sand blocks, xylophones.
horns and whistles (around 21/2)
Art and Craft Materials
large crayons.
non-toxic paints (finger and tempera) and short handled brushes with blunt ends.
clay.
sturdy markers.
blunt-end scissors
chalkboard, large chalk
colored construction paper
Audio-Visual Equipment
operated by adult; tapes, records, CDs
hand-cranked music box if crank is large and easy to turn.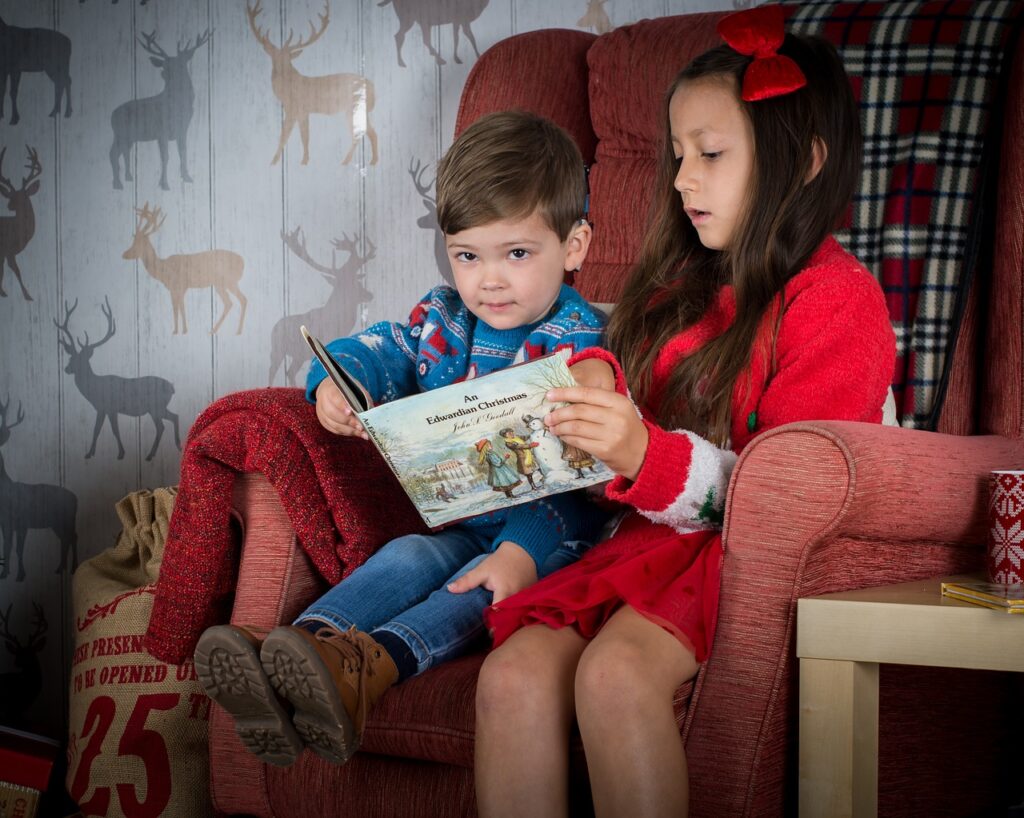 LEARNING PLAY
Games
lotto matching games based on color pictures.
dominoes, especially giant dominoes.
board games based on chance – only a few large pieces or pairs.
Specific Skill Development Toys
simple teaching toys for:
 matching/sorting, shapes, colors, let- ters/sounds, numbers, concepts.
 all electrically powered toys need adult supervision.
Books
sturdy books with heavy paper, cardboard pages
short simple stories with repetition and familiar subjects.
simple pictures with clear color, few details
pop-up books
hidden picture books.
dressing books.
Read about:
*Choosing the right toys for your child
*Toys for preschoolers 3, 4 and 5 years
*Toys for primary school age 6,7 and 8 years
Source:
Which Toy For Which Child, Dr Barbara Goodson, Dr Martha Bronson, U.S. DEPARTMENT OF EDUCATION
Office of Educational Research and Improvement (OERI), Educational Resources Information Center (ERIC)